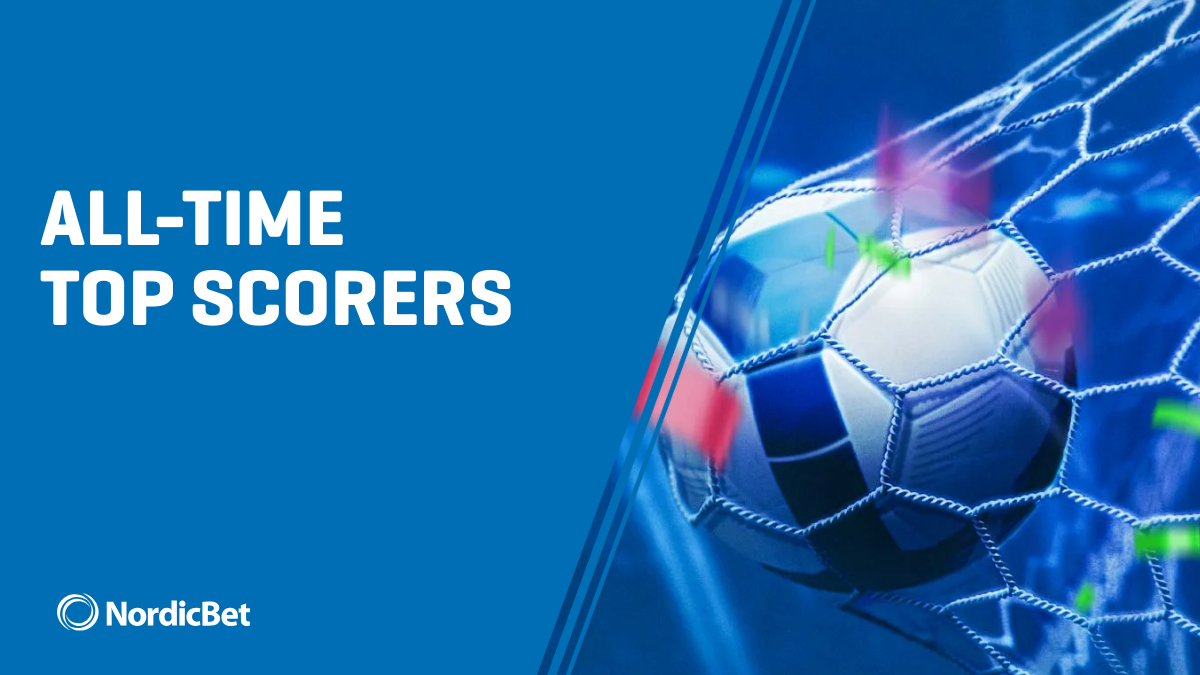 PL Top Scorers of All Time
Scoring goals is the most important part of football, so players who can do so on a regular basis are among the most valuable in the game. We also often have football odds on top scorers from different leagues.
---
The PL has provided a home to numerous world-class attackers down the years, from its inception in 1992 right up until the present day.
It is time to celebrate the greatest goalscorers in the history of the division – here are the 10 PL all-time top scorers.
---
10. Michael Owen (150)
---
A boy wonder during his early years at Liverpool, Owen terrorised backlines season after season. His searing speed was a major asset, with the England international routinely positioning himself on the shoulder of the last defender and then sprinting in behind.
Owen scored 118 PL goals for Liverpool, whom he left for Real Madrid in 2004. Desperate to return to Anfield after just a season in Spain, the striker instead moved to Newcastle United. There were ups and downs there, but Owen still scored 26 goals for the club.
A bit-part player at both Manchester United and Stoke City, he found the net five times for the former and once for the latter.
---
9. Jermain Defoe (162)
---
Defoe was part of a talented crop of players that came through the West Ham United academy in the late 1990s. A sharp and speedy striker, he scored 18 goals for the Hammers before their relegation to the second tier.
Defoe then moved to Tottenham Hotspur, the club with whom he remains best associated. Across three spells with the north Londoners he scored 91 times in the top flight, with a brief 15-goal year at Portsmouth sandwiched in between.
With 34 goals in 87 matches, Defoe was pivotal for Sunderland later in his career. He also beat opposition goalkeepers on four occasions while wearing a Bournemouth shirt.
---
8. Robbie Fowler (163)
---
Fowler burst onto the scene with Liverpool in the mid-1990s, and with 35 strikes to his name he is second only to Michael Owen for PL goals scored as a teenager. A ruthless striker who could carve a chance out of nothing, Fowler registered 128 goals for his beloved Liverpool across two spells with his boyhood team.
The England international was prolific at Leeds United too, scoring 14 goals in 30 top-flight appearances for the Yorkshire outfit.
Fowler failed to find the net during his time at Blackburn Rovers, but he did notch 21 Premier League goals for Manchester City.
---
7. Thierry Henry (175)
---
Widely regarded as the greatest player in PL history, Henry was a truly phenomenal attacker for Arsenal. He joined the club as a wide player but was transformed into a central striker by the visionary Arsene Wenger.
After scoring 17 times in both of his first two seasons in English football, the Frenchman broke the 20-goal barrier for five years on the trot between 2001/02 and 2005/06. At his best he was simply irresistible, combining lightning pace with exceptional skill.
In total he scored 175 goals for Arsenal, including one in a loan spell in 2011/12. His strike rate of 0.68 goals per PL game is superior to that of anyone else on this list.
---
6. Frank Lampard (177)
---
The only midfielder in this ranking of the highest PL goalscorers, it is testament to Lampard's talent, intelligence and work ethic that he frequently outscored strikers – both within and outside his team.
As a young player Lampard contributed 24 goals to the West Ham cause, while he went on to score six times during a brief spell with Manchester City later in his career.
But the attacking midfielder is best remembered for his time at Chelsea, for whom he scored a club-record 211 goals – 147 of which came in the PL.
---
---
5. Sergio Aguero (184)
One of Manchester City's best ever players, Aguero famously scored the goal against Queens Park Rangers in 2012 that won the club the title. That was one of 23 strikes the Argentinian registered in a brilliant debut campaign in English football.
Aguero continued to trouble opposition defenders in the years that followed. He scored 26 goals in 2014/15 and 24 the following year, despite City's failure to win the title in either season.
Deadly inside the penalty area, Aguero was a lethal finisher even from tight angles. He ended his PL career having scored 184 goals for City.
---
4. Andy Cole (187)
Fourth on the list of all-time PL goalscorers, Cole started his career with Arsenal but failed to make the grade at Highbury. He truly made a name for himself at the highest level in 1993/94, when the England international struck 34 goals in 40 top-flight games for Newcastle.
He went on to score nine more times for the Magpies before his shock sale to Manchester United midway through the following season. Cole scored 93 times in total for the Red Devils during a hugely successful six-year spell.
He went on to boost his PL tally with goals for Blackburn (27), Fulham (12), Manchester City (nine) and Portsmouth (three).
---
3. Wayne Rooney (208)
Rooney was marked out as a special talent even before he had made his debut for Everton, the club he supported as a child. The striker scored 25 times for the Toffees prior to a move to Manchester United in 2004.
He would go on to become United's all-time leading goalscorer, with 183 of his efforts coming in the league. At his peak Rooney was unstoppable, combining effortless natural ability with an underrated running power.
The England international might have scored even more goals had he not been so selfless: at times in his United career he played second fiddle to Cristiano Ronaldo and Robin van Persie.
---
2. Harry Kane (213)
Anyone who has already made their PL 23/24 predictions will need to revise them if Kane leaves Tottenham for Bayern Munich, which seems to be on the cards.
The chance to dethrone the player in first place is one reason why Kane may ultimately reject Bayern's interest. Despite the fact he is not top of this list, many already rate the Tottenham talisman as the best ever PL striker.
Kane's 213 goals for Spurs have come in 320 games, giving him a strike rate of 0.67 per appearance – equal with Sergio Aguero and only slightly below Thierry Henry.
---
1. Alan Shearer (260)
Right at the top of the list of leading PL scorers sits Shearer, who scored no fewer than 260 goals in the division. In fact, that statistic is somewhat unfair to the striker, who also found the back of the net 23 times for Southampton before the First Division was rebranded in 1992.
Without Shearer, there is no way Blackburn would have won the title in 1994/95, The powerful frontman scored 34 goals in a magnificent season, and he ended his time at Ewood Park with a sensational return of 112 strikes in 138 matches.
A move to boyhood team Newcastle followed. Shearer did not win a title there, but he did notch 148 goals before hanging up his boots in 2006 after a decade of service.
---
---